Dream job, meet your dream hire
Meet Gradwork, your trusted partner for finding and recruiting the best early career talent.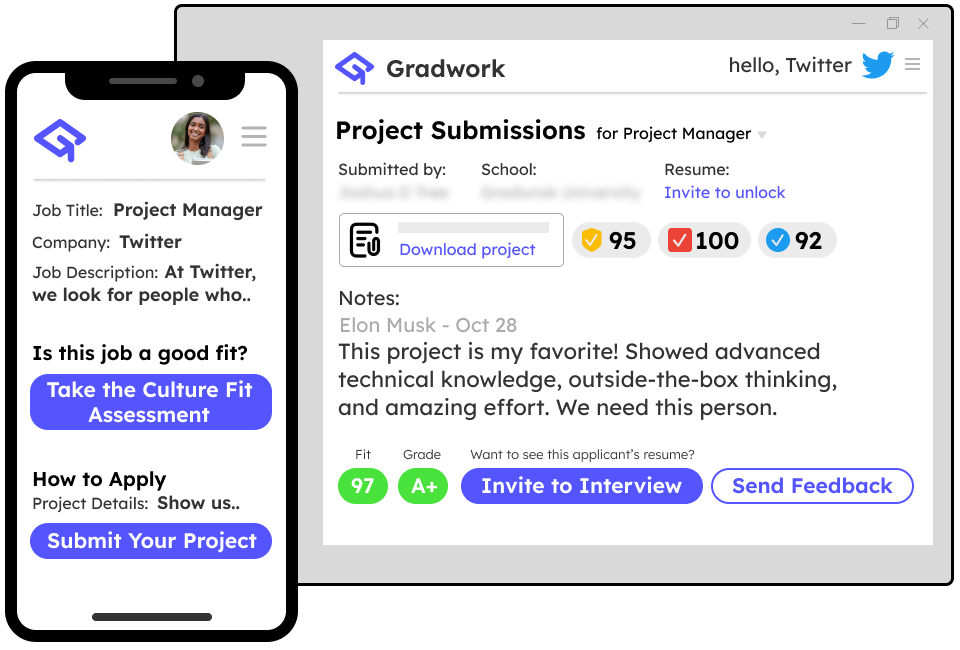 Job seekers anonymously complete a work challenge to apply for their dream job.
Resume and contact information are hidden to ensure an unbiased assessment.
Hiring managers invite their favorites to interview based on skills and quality of work.
Gradwork is a mission-driven organization that helps even the playing field for early career job seekers.  We believe talent and passion should supersede educational pedigree and background.  
Frequently Asked Questions
How is Gradwork different?
Traditionally, job seekers submit resumes when applying for a job. Because many early talent resumes look the same (due to lack of relevant experience), companies create shortlists of candidates based on information like school, area of study, GPA, and even race to meet diversity goals.
Instead of judging job fit on a resume, candidates complete a work challenge to apply for their dream job.  The project submissions are anonymous to ensure equal opportunity for everyone and to encourage companies to hire based on talent.
Why should I apply for a job through Gradwork?
When you apply for a job through Gradwork, you are guaranteed an interview or feedback.  Even if you don't get invited to an interview, the feedback received is invaluable in knowing where improvement is needed.
When job seekers apply through a traditional job board, it takes an average of 150 applications to land a job. Gradwork reduces that to an average of 5 applications to get a job. Turnover is also much lower and job satisfaction much higher because of a better career fit.
What is a typical work challenge?
Challenges are timebound real-world projects designed to evaluate the work readiness of the candidate. These projects are for the sole purpose of hiring, and the work submitted may not be used by the company without hiring the candidate, as challenges are unpaid.
While challenges may have elements found in tasks typically performed on the job, they typically define a problem and have limited instructions to show the applicant's skills like communication, knowledge, problem-solving, work-ethic, 
How can I increase my chances of an interview?
Stand out by doing more than the minimum requirements, research the company, and show enthusiasm for the position through your work.  It's important to submit your work on time, but make sure you don't spend too much time on the challenge.